Research Project "Fish for Food"
Introduction
The fishery sector plays a key role in food security, for small-scale fishers who rely directly on fish for food, incomes and services, but also for the consumers, who profit from the excellent source of the high-quality animal protein. For an adult 150g of fish provides about 50-60% of the daily protein requirements. Beside protein fish is also a source of essential micronutrients, vitamins and minerals.
Worldwide, fish accounted for 17% (FAO, 2010) of the global population intake of animal protein and provides more than 1.5 billion people with almost 20% of their average per capita intake of animal protein. Total and per capita fish supplies have expanded significantly in the last five decades from 9.9 kg in the 1960s to 17.0 kg in 2007.
According to the latest data of FAO Fisheries and Aquaculture (2013) the world aquaculture production of food fish reached 62.7 million tonnes in 2011 (growth rate of 6,2 %). Aquaculture contributed 40.1% to the world total fish production. Compared to 2000 with a production of 32.4 million tonnes a growth rate of 93.5% of the last 11 years. The Top-five producers of aquaculture are from Asia and Total Asia is producing 88-89% of the aquactic fish.
The global fish production (Fig. 1) by capture stagnate by around 90 million tonnes/year, the fish production by aquaculture reported an increase from 34.6 million tonnes (2001) to 62.7 million tonnes (2011).
The increasing fish supply in densely populated countries of Asia, Africa and Latin America will need an increase in productivity of fish farming in semi-intensive aquaculture of carp and tilapia.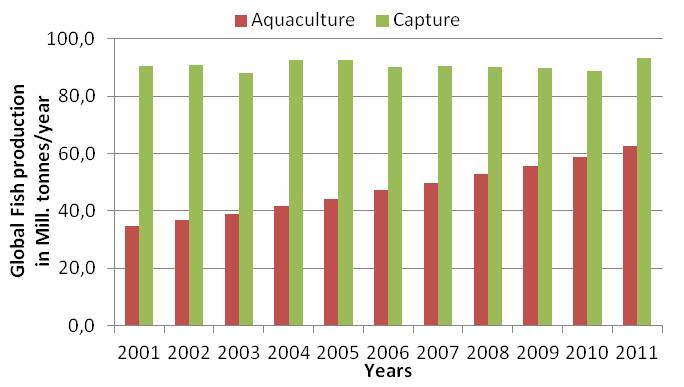 Fig. 1: Contribution of aquaculture to the world total fish production (million tonnes), FAO 2013
Project experiments
The base for an increase in production will be the development of a low-cost fish feed from protein rich by-products of the bio fuel industry. In fish farming, nutrition is critical because feed represents 40-50% of the production costs. Fish nutrition has advanced with the development of new, balanced commercial diets that promote optimal fish growth and health.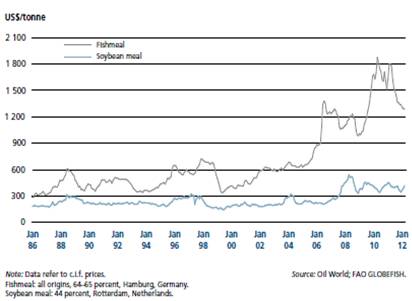 Fig. 2 Development of fishmeal and soybean meal prices (protein-rich) in Germany and Netherlands http://www.fao.org/docrep/016/i2727e/i2727e.pdf
Protein is the most expensive part of fish feed and prices of protein rich fishmeal and soybean meal moved up in the last decade (Fig. 2). To produce a low-cost fish feed it is important to accurately determine the protein requirements for each species and size of cultured fish. Protein levels in aquaculture feed generally average 32-38 % for tilapia (and carp). The needed fish feed will be prepared on the base of detoxified Jatropha kernel meal (JKM) and locally available ingredients.
Carrying out fish feeding experiments with tilapia and carps in analysing growth and digestibility of different diets with detoxified Jatropha kernel meal – in laboratory and field trials.
Creates a market study to the availability of the ingredients of fish feed in different target areas. Produces detoxified Jatropha kernel meal in different levels (laboratory up to industrial level).
Spezialfuttermittelwerke Beeskow
Development of composition and procedures of prepared (artificial) diets with JKM, supply all the ingredients necessary for the optimal growth and health of fish – industrial level.
The manufacturing of the fish feed should take place – as far as possible – in the production countries of JKM and fish feed. The fish feed will be produced at low price level – what means that the licence fee will be of little importance.
Cooperation

The research project is a cooperation project of JatroSolutions GmbH with the Johann Heinrich von Thünen Institut and the Spezialfuttermittelwerke Beeskow. More details to the partners will be found on their homepage.